THE HISTORY OF HAL WHEELER'S SCHOOL FOR DOGS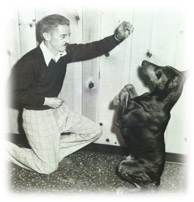 A premium facility for dog & cat boarding, grooming and training was founded by Hal and Fritz Wheeler in 1947. Hal Wheeler was a well known dog trainer, professional dog show handler, author, dog breeder, and all breed pet groomer.
Michael V. Marchese, the current owner of the facility since 1980, worked under Hal and Fritz Wheeler starting in 1965 until their retirement. Mike purchased the business and is still operating it actively to this date.

Since 1980, Hal Wheeler's continues to provide the same standards of excellence The Wheeler Family adhered to. Many of our staff have been with the kennel twenty years plus years, attesting to the commitment and experience we offer for your pet.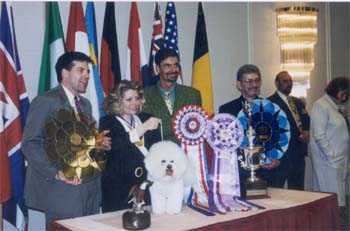 Certified Master Groomer, Loretta Vogt. She is a multi contest winner including the
coveted International Groomer of the Year
Most of our employees have dogs or cats of their own and many of them are breeders in their own right competing in obedience and conformation shows. This personal involvement by our staff offers you the assurance that your pet is in the hands of people who truly know and love animals. Our dedicated staff and commitment to uncompromising quality is what we are proud of. It is part of what makes us special.
Hal Wheeler's Pet Resort Offers:
Climate controlled environment

Central air-conditioning

Commercial Size Generator so all of our services can be maintained during any power outages or electrical problems.

Radiant heated floors

Skylights

Entire facility monitored on closed-circuit TV

Classical music 24 hours a day

24 hours ventilation system

Biscuits & treats

We supply Iams & Eukanuba food products